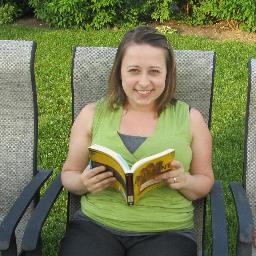 Today, we had the privilege of catching up with Maggie Maslowski, a passionate teacher who uses technology and social media with her learners. If you missed her #RSCON4 session, you can catch the recording. The link is provided below. Here is her interview:
What do you hope people take away from your presentation?
I want educators to see the effective and motivational quality of a project that incorporates reading, writing, editing, revising, creating, and technology. This I Believe Narratives required students to read, summarize, analyze, and synthesize a variety of This I Believe narratives by others before writing their own personal narratives that were student-centered because they were about the students. Students were able to share their voice and their beliefs through multi-media creations that they made using a variety of technology.  Students will be engaged, motivated, and challenged with this activity that definitely includes a variety of common core state standards
What was your favorite #RSCON4 moment(s)?
Oh Wow, too many to count.  I loved presenting and having my students join my presentation by asking questions and helping me respond to questions. I was honored to be a part of the EdInspire Nominees because it is an amazing group of inspirational educators; I loved participating in a variety of keynotes and presentations beginning with the opening ceremony to the concluding reflections; it was a learning experience that showcased the amazing educators all over the world. I have connected with many amazing people that I hope to continue to collaborate with and learn from as the days, weeks, and months continue. 
What are you looking forward to doing now that you've survived #RSCON4?
Oh Gosh, I want to try so many ideas! Genius Hour is my next new try; and I can't wait to collaborate with the other educators who have made it a success!
Catch the recorded session here- 
https://sas.elluminate.com/site/external/recording/playback/link/ta...
Twitter-https://twitter.com/maggiemaslowski
Add her as a friend on this network-